GAPNA's Rising Star for Fall 2016 is Donna Hamill, DNP, AGPCNP
by Jill Brett
GAPNA's latest Rising Star is Donna Hamill, DNP, AGPCNP, of the Great Lakes Chapter in Michigan where she is President-Elect.
She has been a GAPNA member since 2012 when she was a student nurse practitioner (NP). Donna joined during the NP Student Membership Night hosted by the Great Lakes Chapter. Donna attended Wayne State University (WSU) and completed a second-degree BSN program in 2010. She then earned her doctor of nursing practice from WSU in 2014 where she was named a Jonas Veteran's Healthcare Scholar. Donna also holds a BS in Marketing and Economics from Illinois State University. She currently works as an NP at the Beaumont Endocrine Center in southeast Michigan.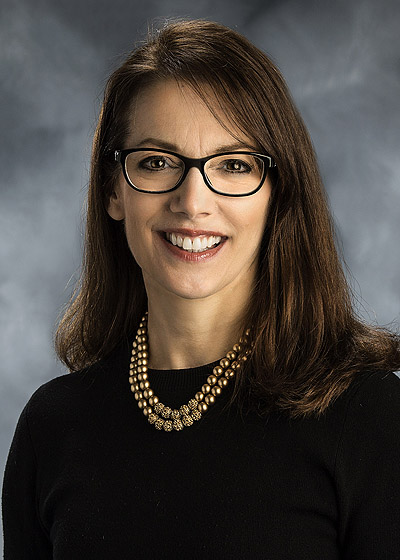 "I have a passion for helping people with endocrine disorders," said Donna. "I see patients in the outpatient setting and provide medical management and patient education regarding diabetes, thyroid disease, osteoporosis, and other endocrine conditions. My practice is with adults over 18 years; however, my training as an AGPCNP and an endocrinology NP helps me to provide age-specific care to the older population with endocrine disorders. " Donna's favorite part of her job is the one-on-one interaction with patients, which is the reason she chose to practice in the primary care setting. She said after getting to know her patients and understanding their views on health, it helps to make her care patient specific.
When asked where she hopes to be in her career in 5 years, Donna responded, "Now that I've completed my first year in practice, my focus continues on expanding my understanding of endocrinology, my specialty practice. I hope to become more involved in care improvement for patients with diabetes, increasing osteoporosis screening and prevention, and changing hospital policy to improve the care of patients with diabetes. My marketing education has steered my focus to patient communication. I never imagined my two careers would merge, but as an NP, I continue to gravitate to improving our messaging as care providers."
When not working, family time is important to Donna. She has been married for over 32 years to her husband, Tim. They have two adult children, Wil and Claire, and a dog named Daisy. Her favorite activity is the rare family dinner when "we can catch up with each other." Donna also enjoys many of the needle arts, especially knitting, as well as drawing, painting, and walking her dog.
Donna believes mentoring students is an important part of supporting the next generation of NPs. "I feel that we, as nurse practitioners, have a vital role in mentoring students and others new to practice so they are encouraged to reach for the stars and have a positive view of the field of nursing," said Donna. "Nursing is a collaboration; not a competition.
My husband recently told me of a wonderful quote by actor Jack Lemmon that applies: 'No matter how successful you get, always send the elevator back down.'"
Jill Brett
Association Services Manager
jill.brett@ajj.com