President's Message
A Call for Advocacy for APRNs
by Carolyn K. Clevenger
It is Summer. In Georgia. In the thick humidity and high heat, I hope you are feeling more energetic than I am. It's that time of year when we Atlantans understand the use of the label "Hotlanta." We do not use the word (it's dated) but we understand why some would.
As a fan of Malcolm Gladwell and reader of Outliers, I like to consider the context that surrounds thriving and success. And so, as I considered the drain that heat and humidity have on my own productivity, I wonder how many historic events in our nation's history occurred in July. It must be as hard to mobilize groups of people as it was for me to get around to writing this "President's Message!"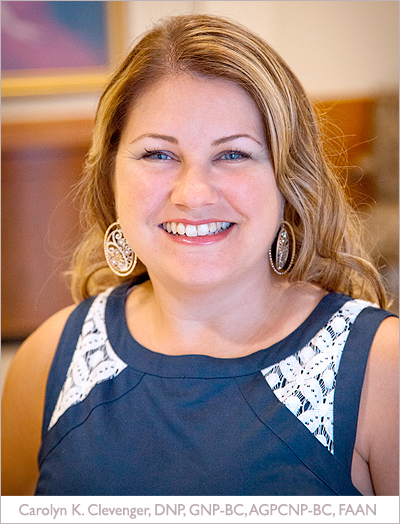 I did a quick review on historyplace.com, a website for students and lovers of history. The site lists notable events typically oriented to North America and, among other methods of organizing the information, posts "This Month in History." In the month of cool and relatively dry October, 148 major historical events are listed. Many of these were battles. This compares to 60 for the month of July.
PRACTICE RULES CHANGE
Where am I going with this?
This July 2016, the proposed rule change published in the Federal Register to allow full practice authority for advanced practice nurses in the Veterans' Administration (VA) (the nation's largest employer of APRNs) has become a battle. The rule change would be a historic moment for APRN practice. Unfortunately, some of our health professional colleagues are vocally opposed to the change and have attacked our profession. As your President of our vibrant professional organization of advanced practice nurses, I have two requests for you:
Please advocate for the decades of evidence that demonstrate the efficacy of APRNs. Your advocacy may manifest as a public comment on the VA website or in your local context. You may singlehandedly represent the whole of the APRN workforce to your audience.
Public argument and negative opinions toward our colleagues in other health professions do not move us forward. The decades of evidence in support of advanced practice nursing is the best story out there. Apply the evidence liberally in your response to naysayers.
SUPPORT FOR GAPNA
GAPNA members are trusted leaders in the care of older adults. Our work aims to improve their lives. While it is difficult to read individual posts intended to minimize our value, please know that, at an organizational level, our colleagues across health professions are reaching out to collaborate and support our efforts.
The GAPNA Consensus Statement on Proficiencies for the APRN Gerontological Specialist continues to welcome endorsements by colleagues in other organizations and educational institutions who support the care of older adults. Through the process of inviting endorsement and sharing the document, like-minded colleagues have contacted us. I would like to share two of those contacts with you. These organizations are not able to add their organization to the list of endorsements but would like to work with us in other ways.
First, the Old Time Radio Foundation is a group of volunteers who have stored radio shows from the 1940s and 1950s on stand-alone devices for the enjoyment of older adults residing in long-term services and supports. This group found a kindred spirit in our organization as professionals who value quality of life for older adults. Personally, I love their ingenuity and the spirit of their work as it brings joy to older adults.
Additionally, our colleagues at AARP continue to endorse the role of the APRN including GNPs in their policy book, currently under revision. New language in the policy book will include specific language calling for changes in policy to allow APRNs to order home health and hospice, and conduct initial visits in skilled nursing facilities, among other positive moves forward. If you are not in collaboration with your local AARP chapter, I encourage you to reach out.
To request an endorsement to share with your organizational leaders, please contact the National Office at gapna@gapna.org.
HERE WE GROW AGAIN
I would like to express the delight of the GAPNA Board of Directors in welcoming a new group of members to our organization. This summer, Optum-employed advanced practice nurses in the House Calls arm of their organization will join us as a corporate member. This addition will add over 800 new members to GAPNA!
CLOSING THE LOOP
The Practice Committee restructuring is ongoing and I am excited to share an important update on this vital group. The new Chair is Suzanne Ransehousen and Vice Chair is Ann Kriebel-Gasparro. These chairs will facilitate the special interest groups (SIGs) in intra-organizational collaboration. The committee will convene at the Annual Conference in Phoenix. If you are a SIG chair or chair-elect, watch for more info regarding this meeting.
This is my last President's Message for the newsletter. I would like to thank you all for the privilege to serve as your President for 2015-2016. So many of you have stepped forward to volunteer as organizational representatives to collaborating organizations, and on workgroups and committees both inside and outside of GAPNA. The Board of Directors have served you all (y'all) tirelessly to continue our growth trajectory, support your professional growth, and to delight you (yes, that's the verb we chose). I am bursting with pride to be associated with you in this important work – to improve the lives of older adults.
Carolyn K. Clevenger, DNP, GNP-BC, AGPCNP-BC, FAANP
President
carolyn.clevenger@emory.edu