Helen Horvath - Finding a Path to Better Care at Home
by Carole Bartoo
Editor
Each issue, GAPNA plans to shine a spotlight on a member. This winter, meet Helen Horvath, RN, ANP-BC, MS, Assistant Clinical Professor, University of California, San Francisco (UCSF) School of Nursing. One of Horvath's main areas of focus is the UCSF Housecalls Program, a project within the Adult/Gerontology Nurse Practitioner in Primary Care program at UCSF.
In September, Horvath became the chair of the GAPNA House Calls special interest group (SIG) and is looking forward to assessing how GAPNA members can be served by the SIG. She would like to bring together GAPNA members who have their own house calls businesses in order to share ideas and resources for clinical and health care business practices.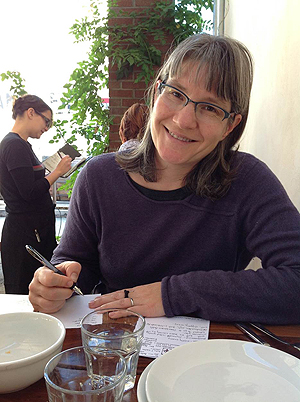 Helen Horvath, RN, ANP-BC, MS
Horvath has been a member of GAPNA's Northern California Chapter since 2012. She says the House Calls SIG speaks to her most passionate concern: how the health care system fails to meet older adults needs at home, where prevention could save the nation billions of dollars.
Making Connections
How did she come to this particular passion?;
"It was circuitous," she laughed. "When I went to college I was idealistic and we were in the Cold War. We needed to have more people who spoke Russian, so that's what I took at Georgetown in Washington, DC. But a degree in Russian didn't translate into practical career goals for me."
Horvath moved from Washington, DC, to San Francisco on a whim, and happened to see a flyer advertising openings in the San Francisco Fire Department.
"I wanted to help people and do something different, and what a great way to do that," Horvath said. But after 14 years working as a paramedic she realized she didn't love it. Treating people for 15 minutes then never seeing them again wasn't enough. She felt glad she had stretched herself as a woman in a male-dominated health profession, but she needed a new direction.
"I wanted longer contact with people. I felt the things I knew about what brought people into the hospital could be really beneficial in preventing hospitalization. Becoming an NP seemed like a great option."
UCSF had an accelerated bridge program. One of her clinical rotations was with community hospice, where she found she could interact with families far longer than 15 minutes. It started her toward the geriatric population, and she also found herself realizing the environment – serving patients in their home – was key.
The clinic where she had her final rotation in school – and where she found her first job out of school – further solidified her path towards advocating for a health care system model that would sustain APRN practice in the home. The clinic was founded by the Gray Panthers, a 1970's group that blended anti-war, anti-ageism, and health system activism. The present day clinic in San Francisco retains a feeling of forward-thinking activism, and it stirs its clinicians in the politics of aging, as well as the spirit of service.
"It was challenging and fantastic. But what the best part was the house calls," Horvath recalled. She found house calls offered the best of all worlds. To her elderly patients, many of whom were housebound, the convenience of top-level care provided in their homes was invaluable. For Horvath and her fellow providers, there was incredible value in seeing patients in the environment that shaped their habits and health. She realized the home held the potential to become the best, and in a practical sense, the only starting place for reshaping habits and health.
Growing Geriatric Practice
As the geriatric and adult programs at UCSF merged, Horvath was the perfect choice to come aboard and help expand faculty practice in the UCSF Housecalls Program. The growth was very successful and today geriatric medicine fellows work with NPs in the school of nursing under a grant to increase interdisciplinary work in home-based health.
"GAPNA is a very welcoming organization, and a great place to connect or find a mentor. I can tell you the membership makes you feel at home. These are my people"
"Thirty percent of what we do in this collaboration is house calls and precepting students within that framework. There is also a longitudinal clinical aim to follow older adults across time and across levels of care. We do this in close collaboration with geriatric medicine faculty."
Horvath says working with other disciplines and students has opened her eyes to the reality of the challenges in developing strong home health care.
"There is a great need for nurse practitioners to do this, but until I started teaching, I did not realize people could be uncomfortable with house calls. I was comfortable, but some other providers did not want to go into people's homes. It also turns out a lot of providers like the comfort of the clinic and having resources at hand," Horvath said.
Horvath said this is a critical time for NPs to advocate for services like house calls that fit a particular group of patients' needs. Nurses can be involved in determining quality measures, how to pay for quality and finding out if those measures meet the needs of our older adults.
"What we are finding is quality home-based care doesn't fit our current compensation model, so change needs to happen. We talk about influencing legislators. In the House Calls SIG we realize even the legislators do not understand what we do, and it's our job to educate and inform them," she said.
Horvath wants to encourage any APRN who has a passion for caring for older adults and a desire to improve the system to join GAPNA, and become active in a SIG.
"Since the new consensus model, there is need for a voice that speaks to the unique needs of geriatric patients. GAPNA is a great vehicle to keep pushing for excellence in clinical care of geriatric patients. Besides," she said, "GAPNA is a very welcoming organization, and a great place to connect or find a mentor. I can tell you the membership makes you feel at home. These are my people."
View more information about Horvath's UCSF Housecalls Program.
To nominate a colleague for the Member Spotlight feature, please contact Carole Bartoo, editor.
---
Carole Bartoo, MSN, RN, AGNP-BC
Editor