President's Message
An Exciting Time to Be a GAPNA Member
by Carolyn K. Clevenger
I hope everyone made it home safely from our 34th Annual Conference in San Antonio, TX. It was an energizing time to meet fellow advanced practice nurses and share clinical knowledge, practical tips for managing businesses, and advice for career advancement.
At the organization level, it was invigorating to plan for the future of our profession and the recognition of APRN Gerontological Specialists. I hope you brought something meaningful back with you from the conference – even if it was a line dance (Tush Push, anyone?).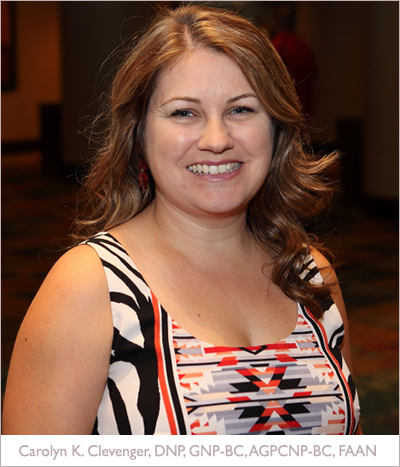 As I said in San Antonio, it is an exciting time to be an advanced practice nurse caring for older adults and a member of GAPNA.
Over the coming year, the Board of Directors and I will engage in several activities intended to promote GAPNA's mission and goals, and to bring attention to the important work we all do to improve the lives of older adults.
One key tactic to recognize our contributions is through the wide communication and dissemination of GAPNA's Consensus Statement on Proficiencies for the APRN Gerontological Specialist. View more information about the document.
The first thing you will notice in this issue is the new and improved format. You are invited to click through the stories presented in this online edition.
The GAPNA- and GAPNA Foundation award winners are highlighted in this issue including our first-ever Rising Star feature! In addition to news stories related to gerontology practice and research topics, you will find information on the upcoming Pharmacology Conference, which will be held in my hometown of Atlanta, GA, in April 2016.
With so many things happening in our organization, how can you become involved?
Whether you participate, lead, or mentor, there are plenty of opportunities to take advantage of the benefits and resources GAPNA offers!
Personally, I work well with a checklist, so here is one I devised for you:
Participate in a committee or special interest group (SIG). Most groups meet monthly by phone conference.
Submit an abstract for the 35th Annual Conference. The deadline for clinical abstracts is December 5, 2015. The deadline for research, clinical project, and education poster abstracts is May 15, 2016. View submission- and all details about the Annual Conference.
It is an honor to serve this organization of advanced practice nurses who are enhancing the well-being of older adults. Here's to another successful year!
Carolyn K. Clevenger, DNP, GNP-BC, AGPCNP-BC, FAANP
President
carolyn.clevenger@emory.edu