Building on the success and popularity of its inaugural pharmacology event in 2015, GAPNA will hold its second annual "Contemporary Pharmacology and Prescribing in Older Adults" conference March 31-April 2, 2016 in Atlanta, GA.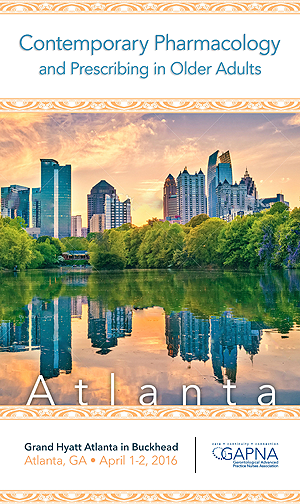 The conference offers fast, focused education. In less than 2 days you can earn up to 11.5 contact hours and 11.5 hours of pharmacology credit. Register by February 8, 2016, and save $90!
You will make lasting connections by networking with colleagues on pharmacologic concerns and interacting with leading experts and industry representatives. Plus, enjoy indefinite access to the GAPNA Online Library and take your learning home with you and access content when it is convenient for you.
The Contemporary Pharmacology Conference offers cutting-edge content and dynamic speakers. Here is a sample of topics:
End-of-Life Symptom Management
Alzheimer Medications
Antipsychotics: To Use or Not to Use?
Antimicrobial Stewardship
Parkinson's Disease and Update on Medications
Treating Incontinence
Opioid Prescribing in Chronic Disease
Topical Dermatology
Enhancing Quality of Prescribing Practices for Older Veterans
The Grand Hyatt Atlanta, located in the heart of Atlanta's upscale Buckhead neighborhood, is the headquarters hotel for GAPNA's Pharmacology Conference. The hotel is within walking distance to fashionable shopping, dining, and entertainment at Lenox Square and Phipps Plaza malls, as well as the vibrant Buckhead Atlanta retail, dining, and nightlife district.
Join your colleagues in Atlanta for "Contemporary Pharmacology and Prescribing in Older Adults."
Register now and save $90.
Connect now on Facebook and Twitter with hashtag #GAPNAPharm2016.