GAPNA Congratulates 2015 Award Recipients
by Amy Imes
The GAPNA Awards Committee thanks each and every person who submitted nominations this year! It is always a treat to read and discover the many contributions our members make to the field of geriatrics. These awards are a significant way GAPNA recognizes the amazing work we do as individuals and as an organization.
For 2016, the committee issues each of you a challenge. Think of at least one colleague who deserves recognition for their dedication to advanced practice nursing in geriatrics. To each chapter, committee, and special interest group (SIG), we encourage you to recognize the work of your group and your members.
The Awards Committee is prepped and ready for the onslaught of nominations that we expect to receive next year! We now take this opportunity to recognize the recipients of the 2015 GAPNA Excellence Award.

View Awards and Scholarships - GAPNA Awards nominations are accepted October 1 through June 1 every year.
Chapter Excellence Award: Great Lakes Chapter
This chapter is extremely involved with GAPNA at the national level, with representation on the executive board and numerous committees and SIGs. This group also stands out with their dedication to growing their chapter membership through mentoring nurse practitioner (NP) students and new NP members.
They take great care to include NP students and new NP members in committees and leadership activities. In addition to this great work, chapter members are active throughout the state of Michigan with various task forces and legislative initiatives.
Congratulations to the Great Lakes Chapter for setting such a great example!

Visit thier website
SIG Excellence Award: Post-Acute Care/Long-Term Care
The Post-Acute Care/Long-Term Care SIG is a valuable resource both to individual GAPNA members practicing in this specialty area as well as GAPNA and other professional organizations seeking their expertise. The SIG has provided updates for the GAPNA clinical practice links and has been collaborating with AMDA to develop a Collaboration Toolkit.
They also provide a mentor/mentee program for clinicians new to this practice area. The group is eager to be a resource to other GAPNA members new to post-acute and long-term care as well as those who just need to discuss the complex regulations of the practice setting.
Congratulations to the Post-Acute Care/Long-Term Care SIG for their dedication to this specialty area!
Excellence in Leadership Award: Nikki Davis
Nikki Davis is the founder of the Georgia GAPNA Chapter and continues to lead this group as the principal officer. She has served in numerous leadership roles on both the local and national GAPNA levels.
Nikki also represented GAPNA on the NP Consensus Model committee and held fast to ensure geriatric NPs were well represented on this national stage. To better meet the needs of geriatric patients in her community, Nikki developed a comprehensive hospital-based palliative care program.
She brought together hospital providers and created a new environment where geriatric care became a standard of practice where it once was marginalized. She is not afraid to challenge the status quo and develop new ways to provide superior evidence-based care.
Nikki currently supports nurse practitioners in geriatric practice to promote clinical model best practices and refine clinical operating procedures, giving NPs the necessary tools for practice excellence.
Congratulations to Nikki Davis for demonstrating true leadership in the area of geriatrics!
Excellence in Clinical Practice Award: Angelica Brown
Angelica Brown began her adult NP career 17 years ago in long-term care (LTC). She recognized geriatrics was a specialty that she loved and needed to know more about. Angelica then obtained her post-master's certificate in gerontological advanced practice nursing.
Angelica and Dr. Mary Henry were one of the few strictly LTC teams when they launched their practice in the Louisville, KY, area in 1998. Angelica continues to deliver care to this population through an interdisciplinary approach, involving all members of the care team when making patient decisions and discussing care with families.
She developed a geriatric flow sheet to assist her colleagues in supporting geriatric care through accurate documentation. In addition, Angelica has developed numerous clinical pathways to guide geriatric care in the post-acute setting. She also uses her advanced practice knowledge to support older adults in her parish. She assisted in the development of a nursing home and homebound visitation program.
Congratulations to Angelica Brown!
Excellence in Education Award: Lynda Mackin
Lynda Mackin has successfully facilitated a transition of many program offerings from gerontologic-focused programs into broader NP/clinical nurse specialist (CNS) tracks. In 2013, through a Health Research and Services Administration (HRSA)-funded project, Lynda collaboratively developed a course that focusing specifically on dementias.
This course is required for all CNS track students, adult-gero acute care NP students, and psychiatric-mental health nurse practitioner students. Lynda has developed and maintained an active home-based primary care clinical practice for more than 10 years. This practice provides care to frail older adults in private homes and community-based care facilities in collaboration with office-based family practice and internal medicine physicians.
Since 2011, Lynda has served as the co-program director for the Northern California Geriatric Education Center Faculty Development Program. This HRSA-funded program is designed for health care professionals from a range of disciplines to learn more about geriatric care and to enhance their teaching skills. Nearly 80 health care professionals have completed the program since its inception.
Congratulations to Lynda Mackin!
Excellence in Research Award: Linda Beuscher
Since joining the faculty at Vanderbilt University School of Nursing in 2007, Linda Beuscher has been teaching nursing research to MSN and DNP students and mentoring DNP students. In addition to her teaching efforts, Linda also works with Vanderbilt University Medical Center's Center for Quality Aging, conducting research and quality improvement efforts aimed at improving health care for the elderly.
In the past 5 years, Linda has been a co-principal investigator in three different National Institutes of Health RO1 studies, all of which involved the testing of different nursing interventions used to improve care for LTC residents. She has been a key team member in the center's Center for Medicare & Medicaid-funded IMPACT project.
Linda's research efforts have also included studies to understand the lived experience of individuals with early-stage Alzheimer's disease, the family caregivers' experience in nursing home placement of their loved one, and staff knowledge and recognition of depression.
In 2010, she spearheaded efforts at Vanderbilt to launch the geriatric specialty interest group, a collaboration of faculty committed to the care of older adults in clinical practice, research, and education.
In addition to demonstrating leadership in geriatric nursing research, Linda serves as a reviewer for the Research in Gerontological Nursing and Western Journal of Nursing Research journals. Additionally, she is a member of the Vanderbilt University Appellate Review Committee and has been an active member of GAPNA's Research Committee.
Congratulations to Linda Beuscher on her award!
Excellence in Community Service Award: Karen Devereaux Melillo
Karen Devereaux Melillo has demonstrated a commitment to community service that has enhanced the care to older adults in a variety of health care settings. She is principal investigator on a HRSA Nursing Workforce Diversity grant to facilitate partnership with middle and high schools in Massachusetts to increase recruitment of economically and educationally disadvantaged youth to consider nursing as a career.
She was also principal investigator on a Massachusetts Department of Higher Education grant to establish a dedicated education unit in LTC. This unique model was designed to promote LTC for nursing students as a desired future employment site. In addition, Karen is involved with many other significant grants to improve NP education through various community and LTC settings.
Finally, Dr. Melillo is the Director of the UML Center for Gerontology Research and Partnerships. The center fosters academic-community partnerships between gerontological researchers in the academic setting and agencies serving the public health and individual health needs of the community of older adults.
Congratulations to Karen Melillo for a job well done!
2015 Awards Photo Gallery
Chapter Excellence Award: Great Lakes Chapter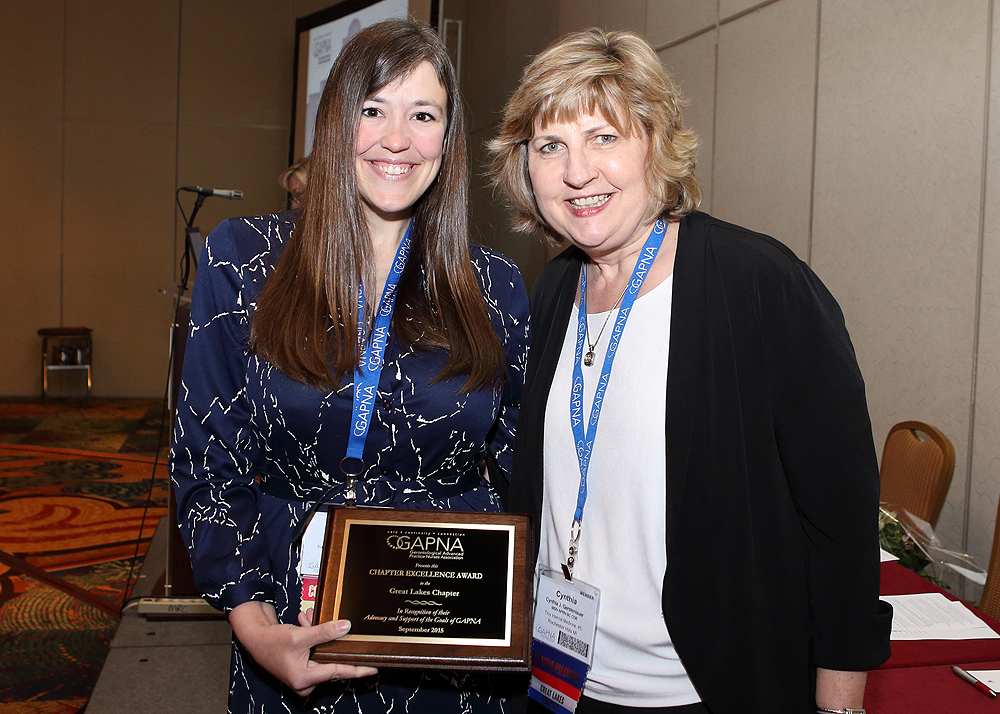 SIG Excellence Award: Post-Acute Care/Long-Term Care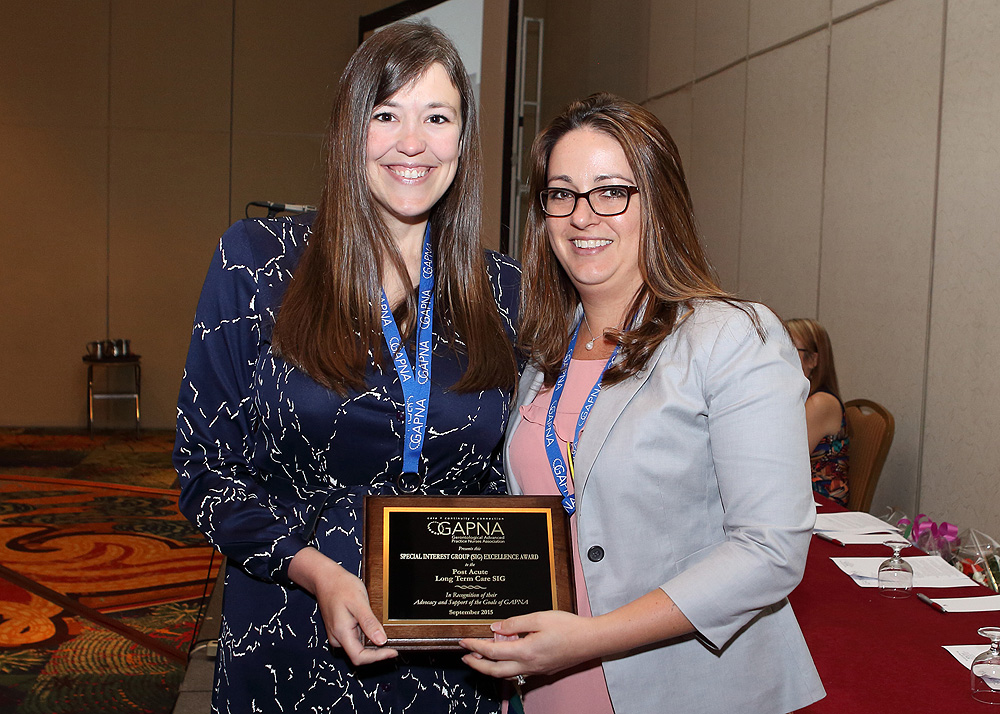 Excellence in Leadership Award: Nikki Davis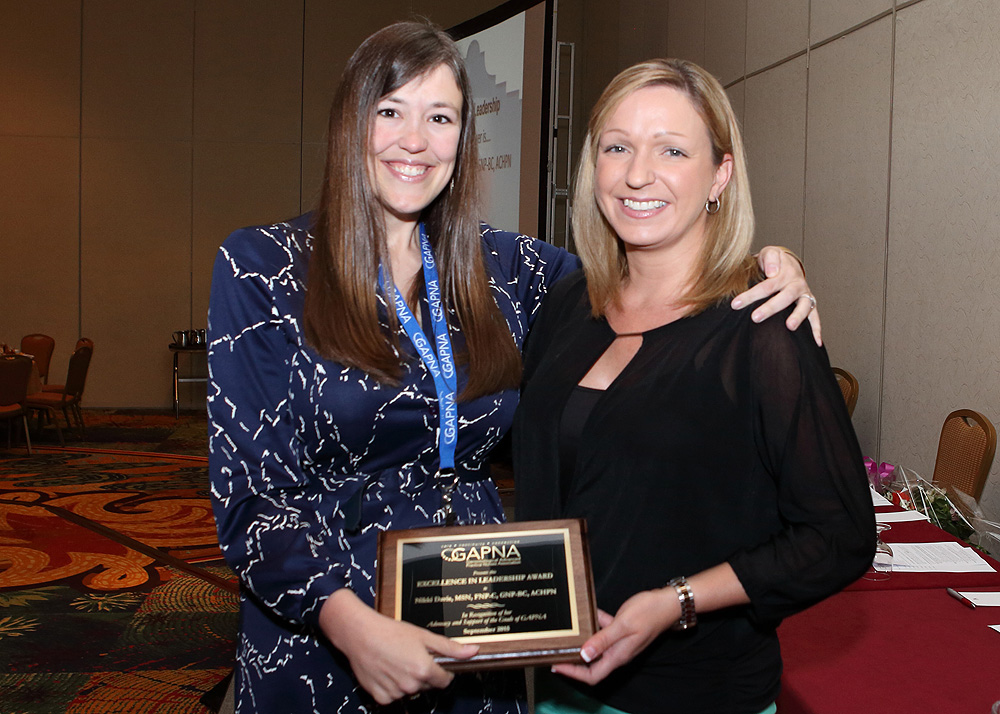 Excellence in Clinical Practice Award: Angelica Brown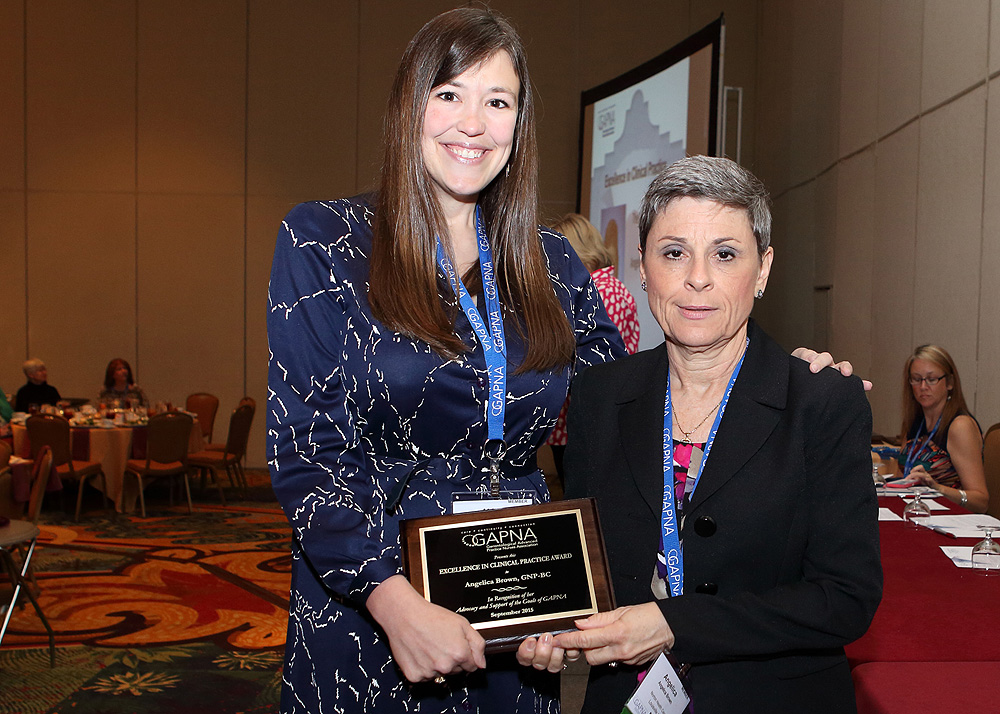 Excellence in Education Award: Lynda Mackin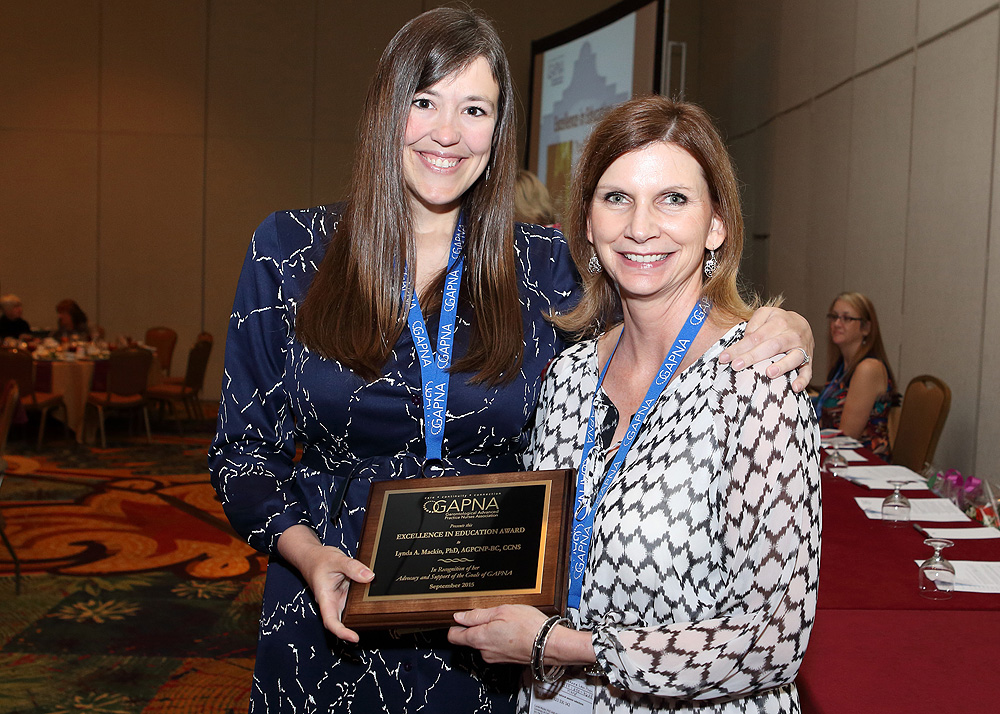 Excellence in Research Award: Linda Beuscher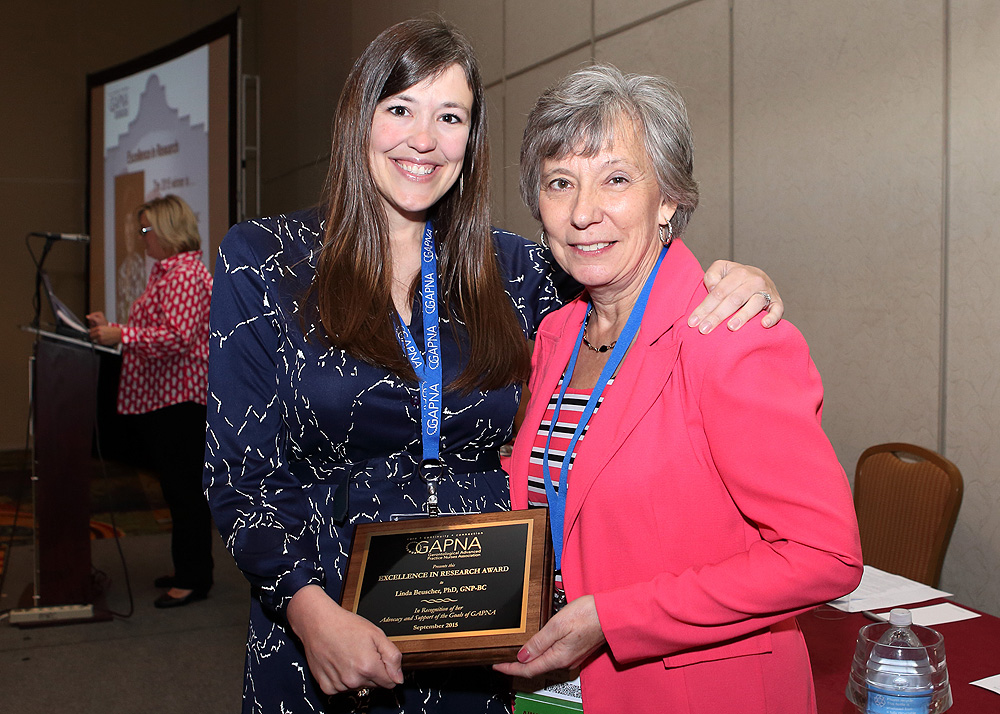 ---
Please join the GAPNA Awards Committee in celebrating the 2015 GAPNA Excellence Award winners! We look forward to your 2016 nominations and encourage you to begin thinking of colleagues to recognize!
Amy Imes, GNP-C
Past GAPNA Awards Chair