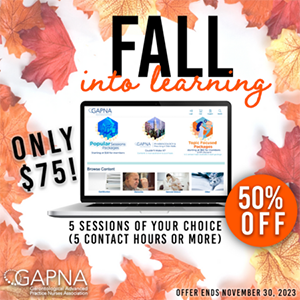 Purchase 5 session credits of YOUR choice at 50% off regular session pricing.
One session credit is equivalent to ONE regular session, so you can get 5 sessions (5 contact hours or more) for this great price.
How does it work? Simply purchase this bundle, and then browse the GAPNA Online Library. Find a session you'd like and click the button that reads "Use Session Credit." It's that easy!
This is only available until November 30. Be sure to purchase this package before all the autumn leaves have fallen.

Couldn't attend our 2023 Conferences? Here's a perfect opportunity to get a taste of the education GAPNA has to offer. And if you love it (we're sure you will), save the date for 2024 Pharmacology Conference in March 21-23, 2024.